Últimos días para entregar los sombreros para el concurso de ST Patrick´s Day, anímate ¿Te apuntas al RETO?
WHAT: Celebración Irlandesa "St Patricks Day"
WHEN: 17 de marzo
WHERE; C.P Alfonso Camín
WHY: Aprender una lengua conlleva el aprendizaje de su cultura, tradiciones, historia, geografía... nos ayuda a saber más sobre nuestra propia cultura y a valorar otros pensamientos, es divertido y nos anima a seguir aprendiendo y compartiendo experiencias.
HOW: juegos, concurso de sombreros, canciones, manualidades, recetas, festival.. recuerda ese día ven vestido con algo verde, si no quieres ser "Pellizcado"
LET´S SING!
Letra:
Potatoes and Cabbage (lyrics)
©Poppinksongs 2011
St. Patrick's Day is so much fun
Coloring shamrocks in the sun
So do a dance and bang a drum
And eat potatoes and cabbage
St Paddy's got a history
He was kind and good you see
He followed all his magic dreams
And ate potatoes and cabbage
He was kidnapped at 16
By Irish raiders cruel and mean but
He got away and studied and prayed
And ate potatoes and cabbage
He brought the Irish people faith
He built a church, became a saint
Some people say he scared the snakes
And ate potatoes and cabbage
We celebrate March 17
So don't get pinched and wear some green
Welcome in the sunny spring and
Eat potatoes and cabbage
Let's be Irish, sing a song and
Look for clovers on the lawn
A leprechaun may come a long he'll be
Eating potatoes and cabbage
Eating potatoes and cabbage
Eating potatoes and cabbage
http://www.artistshelpingchildren.org/kidscraftsactivitiesblog/2012/03/how-to-make-a-leprechaun-finger-puppet-for-st-patricks-day/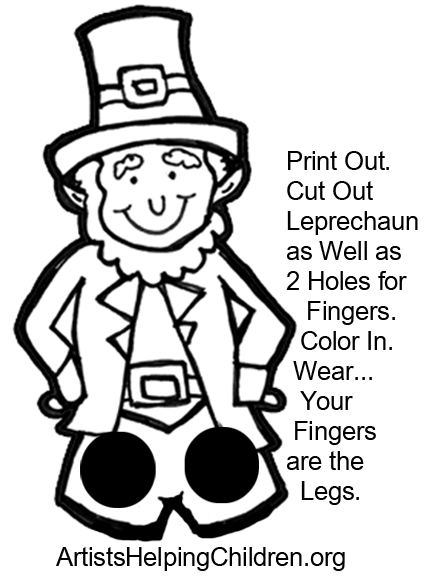 Go green. (No olvides llevar verde el día de la celebración)
You don't have to wear a sweater with a giant shamrock on it. (Though that would certainly help you stand out.) The great thing about this holiday is you are free to go as subtle or as wild as you like. St. Patrick's Day t-shirts have been a common article of clothing to wear proudly.
http://www.wikihow.com/Celebrate-St.-Patrick%27s-Day
¿Quieres saber más sobre esta celebración?