Ahora investiga y responde a las preguntas que nos plantean desde:
http://resources.woodlands-junior.kent.sch.uk/customs/questions/index/stgeorge.htm
Who Was St George?
St George (famous for slaying the dragon) is the patron saint of England. He was a Roman soldier who protested against the Roman torture of Christians, and was killed for his beliefs. He is most famous for the story of his fight against the dragon.
More St George's Day Activities
Wearing a red rose in your buttonhole or on your lapel was a tradition on St George's Day. We've got red rose crafts, red rose printables, and rose colouring pages too...
Roses
.
Shakespeare anyone? We have a bumper collection of Shakespeare printables, colouring pages, puzzles and worksheets - for all ages.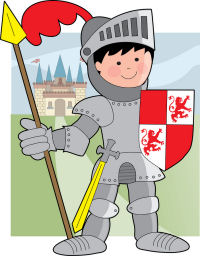 See our
Knight's theme
Learn all about London, England's fascinating capital city, and enjoy colouring pages, printables and crafts.
London Theme