Estimadas familias:
Durante la última semana de octubre se realizarán talleres de Halloween en la clase de inglés con juegos, canciones, cuentos y manualidades. Pueden participar desde casa trayendo libros, pequeños elementos de disfraces como sombreros, máscaras, varitas…para amenizar las clases y realizar la exposición de Halloween. Estas actividades forman parte del proyecto eTwinning en el que estamos participando y el intercambio de experiencias con colegios de lengua inglesa nos ayudará a descubrir las semejanzas y diferencias con otros países y adquirir valores como la tolerancia y el respeto. ¿Nos ayudas desde casa? Más info en:
http://www.comparteconarteingles.blogspot.com.es/
Inicio de semana: Durante esa semana y exclusivamente para la clase de inglés, el alumnado podrá traer gorros o adornos de Halloween para llevar durante la clase (pequeñas cosas que no interrumpan el funcionamiento de las otras clases). Decoraremos murales y motivaremos a los niños y familias para que traigan al cole: decoración de Halloween, calabazas, libros, historias, canciones escritas, dibujos relacionados para exponerlos y que participen desde casa. Decoraciones: con temática de magia, monstruos, disfraces, fantasmas, esqueletos… manualidades relacionadas con la festividad: castillo de Halloween, máscaras… creación de montajes fotográficos con el uso de las nuevas tecnologías… desde el resto de áreas y desde casa se puede colaborar con actividades que fomenten la lectura con la temática relacionada con Halloween y el miedo.
Games: Monster freeze, ring a ring of roses.
The magic game:
Whats in the pumking?
Pin the bone...
Halloween Colouring Pages by Category: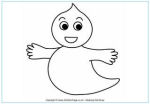 Ghost Colouring Pages
A fun collection of ghost colouring pages - from the funny to the spooky!